Lineage


PROJECT SPECS
2019, 5 weeks, Web Application


MY ROLE
UX Design, UI Design, Logo/Branding


PROGRAMS
Adobe XD, AI CC


TAGS
User Testing, Prototyping, Family Tree,
Tracking, Sorority/Fraternity



OVERVIEW
Lineage is a website application designed for assisting fraternities and sororities members in learning about their new initiates in a simple and straightforward approach.


Within fraternities and sororities — whether it's a business, design, service fraternity, or social sorority — there are two words closely knitted to the greek community: bigs and littles. These two terms represent your mentors (bigs) and your mentees (littles) in the group, the family you are sorted into, and at a larger scale, the organization that you are invited to unite with.
PROBLEM
Throughout one's college career,
hundreds to thousands of potential members apply to enter a Greek organization

, and only a small percentage of those students are recognized to be a part of them. And for those that do get welcomed usually have a

hard time getting to know all of the existing members

.

So how do you keep track of who your big is? Who your family are? Or who is a member of your Greek society?

The fastest way is to get a piece of paper and a pen, and write down your own family members — big and littles, grandbigs and grandlittles — but then ther's the factor of who's left the organization, who's adopted into the family, who's being deferred a semester, etc., and it all becomes quite confusing. In addition, for ancestors or decendants outside your tree, you'll probably have to ask around to wholly complete your diagram..
USERS / AUDIENCE
There are main audience in a broader sense would be
Greek sororities and fraternities

. However, below lists subgroups within the organizations that are included as targets in consideration for implementation:

︎︎︎

existing sorority general members

» members that are present with the organization a semester plus; know some to all members / friend circles to an extent


︎︎︎

existing sorority executive officers

» chapter officers who long for more assessible digital resources to carry out collegiate chapter duties


︎︎︎

newly intiated members

» members who are not familiar with existing members, families, and officers


︎︎︎

collegiate chapter advisors

» advisors who assist chapter executive officers in running the collegiate chapter
ROLES / RESPONSIBILITIES
I was approached by other council members to design a system for this problem and create a prototype for our chapter to experience, as the
product designer and project manager
.
SCOPE / CONSTRAINTS
In this project, time and budget were the main obstacles in my way. With new members to be initiated around a month after spring break, I created a timeframe for work to be done — outside my studio hours — in 5 weeks. One the other hand, the direction for an approved budget in hiring a profesional coder, required a submission for an allocations of funds and must be authorized by several channels.





SOLUTION
In a quick survey of 23,
82% of Greek organization sorority members agree with the paper/pen scenario as time consuming and rigorous, while all 23 say they would like a central digital space to access and rely on.



Lineage provides that missing link, tailored toward the Greek organizations' specific needs. It offers particular actions such as

adding members in bulk, sort by family, sort by semester initiated or class, and multiple user editing.
PROCESS
Strategize

I started the project by listing some deliverables I looked to create: logo, a style guide, and a prototype. And what actions I needed to take to recieve valuable feedback / validation for the revisions.





Though the logo was not an high priority, I wanted to take the time to create some variations for the members to vote on during one of the weekly meetings.
[place sketch]
[place vote results]
Research

After establishing my direction, I explored other applications / methods that were already available for the 'family-tree' use, and came up with
Excel Sheet, Family Tree Maker, My Heritage, and MacFamily Tree.

DESIGN

Now that I further understand what features to add and keep off from my design, I listed the goals I aimed to achieve.
My design prototype would include:
︎︎︎ Sorority / fraternity vocabulary

︎︎︎ Collaborative edit

︎︎︎ A display of all members

︎︎︎ An edit component unlockable by a member's private code

︎︎︎ A list of families and branches

︎︎︎ Zoomable / draggable display of family tree

︎︎︎ Add / remove member
Testing

In finishing my earlier wireframe versions, I did a round of users testing to get some feedback on what I should change.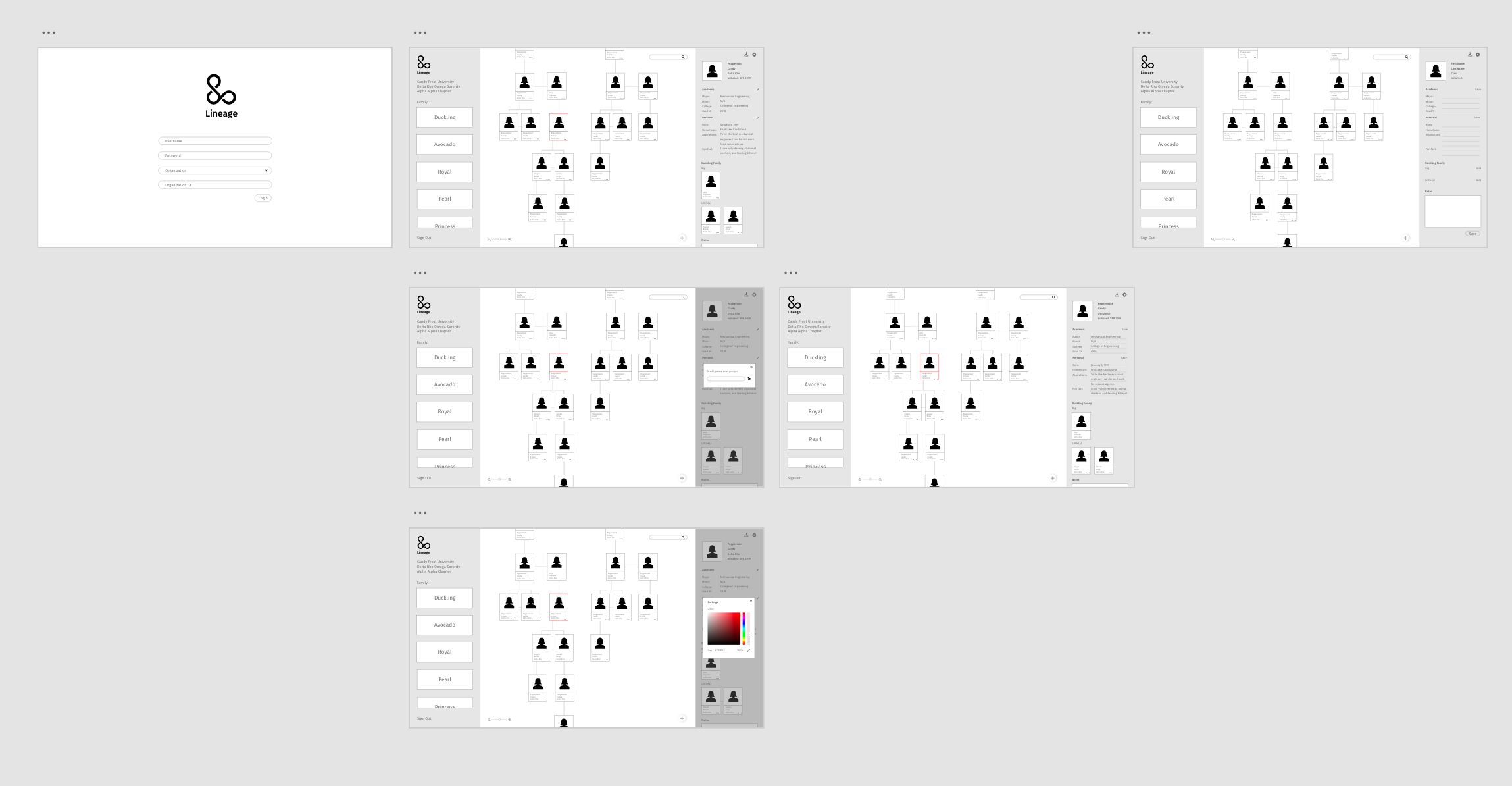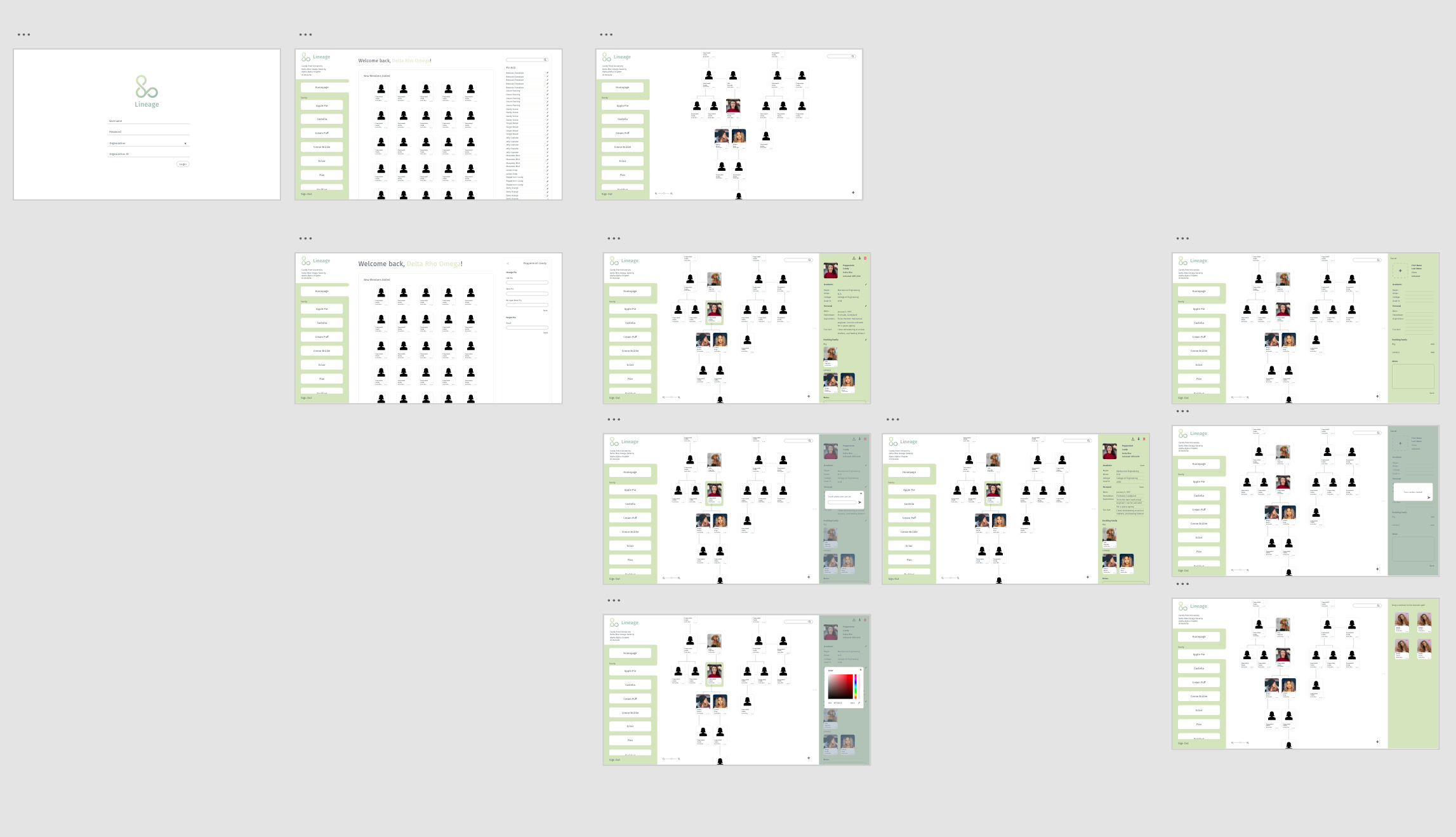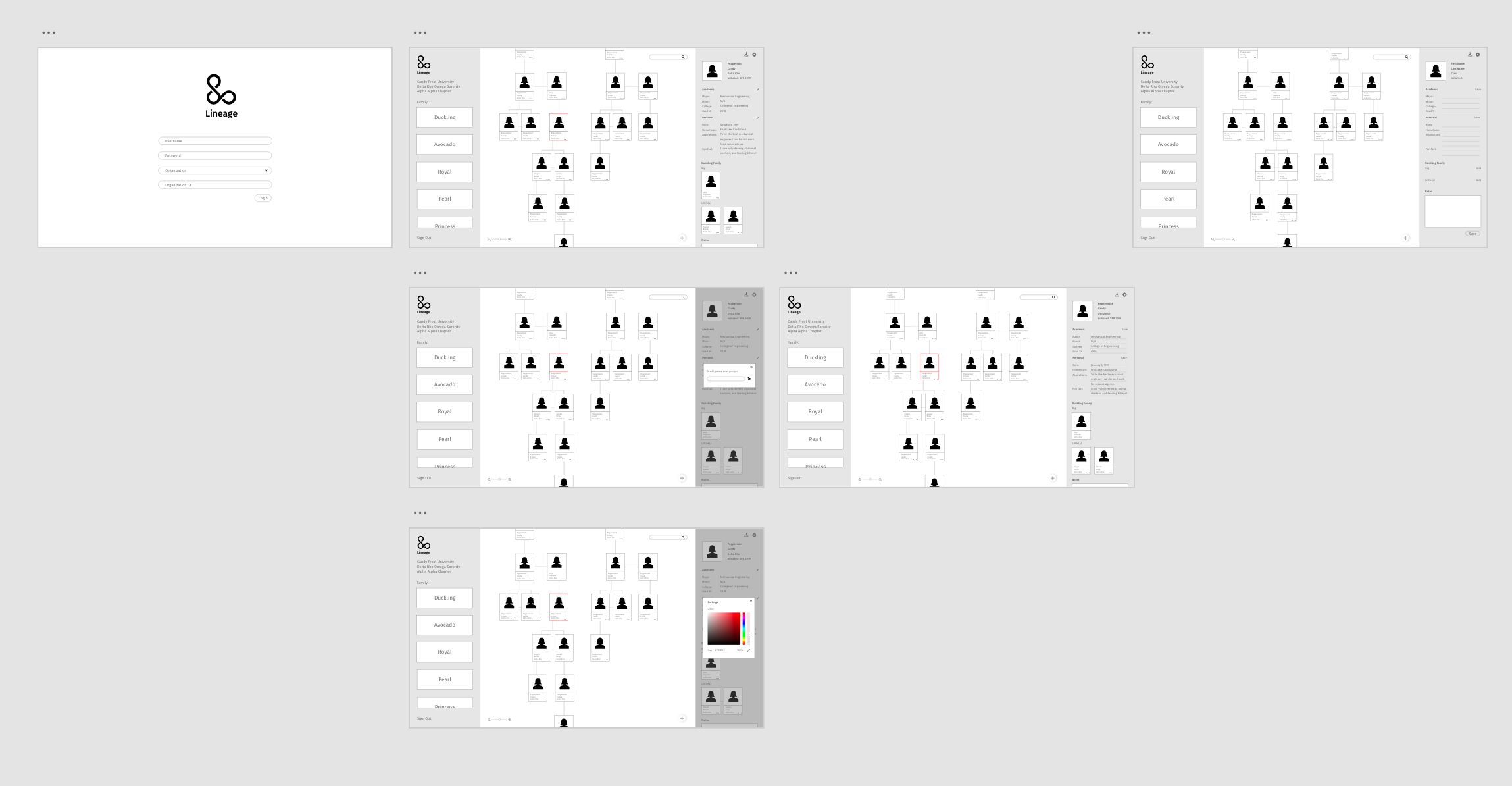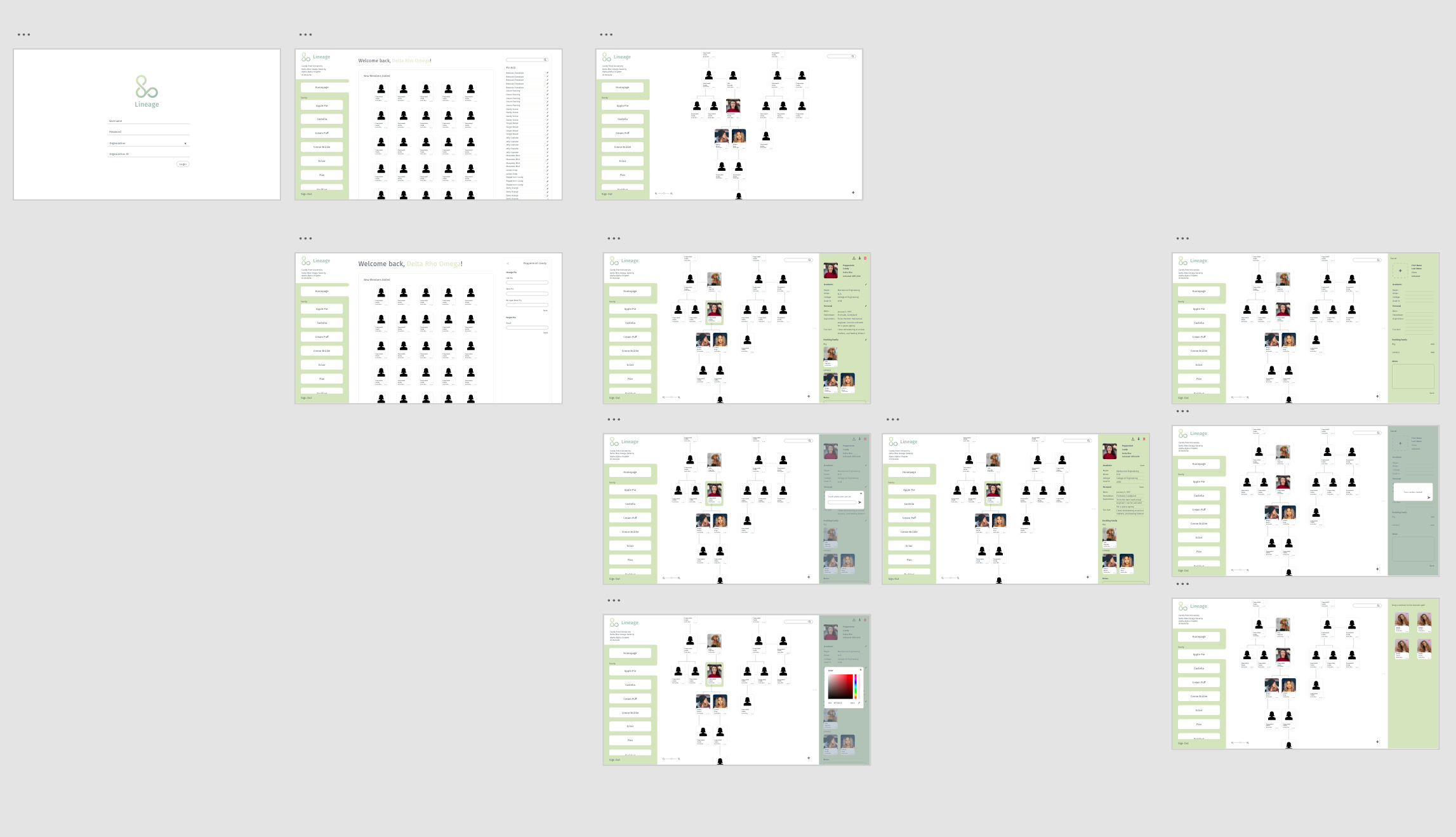 Round 1 Testing Results (tested on V4)
Hi-fi Version Results
SAMPLES