Project Specs
2019・5 wks・Web App

My Role
UX Design・UI Design・Logo / Branding

Programs
Adobe XD・Illustrator

Tags
User Testing・Prototyping・Family Tree・Tracking・Sorority/Fraternity


Overview
Lineage is a website application designed for assisting fraternities and sororities members in learning about their new initiates in a simple and straightforward approach.

Within fraternities and sororities — whether it's a business, design, service fraternity, or social sorority — there are two words closely knitted to the greek community: bigs and littles. These two terms represent your mentors (bigs) and your mentees (littles) in the group, the family you are sorted into, and at a larger scale, the organization that you are invited to unite with.


Problem
Throughout one's college career, hundreds to thousands of potential members apply to enter a Greek organization, and only a small percentage of those students are recognized to be a part of them. And for those that do get welcomed usually have a hard time getting to know all of the existing members.

So how do you keep track of who your big is? Who your family are? Or who is a member of your Greek society?

The fastest way is to get a piece of paper and a pen, and write down your own family members — big and littles, grandbigs and grandlittles — but then ther's the factor of who's left the organization, who's adopted into the family, who's being deferred a semester, etc., and it all becomes quite confusing. In addition, for ancestors or decendants outside your tree, you'll probably have to ask around to wholly complete your diagram.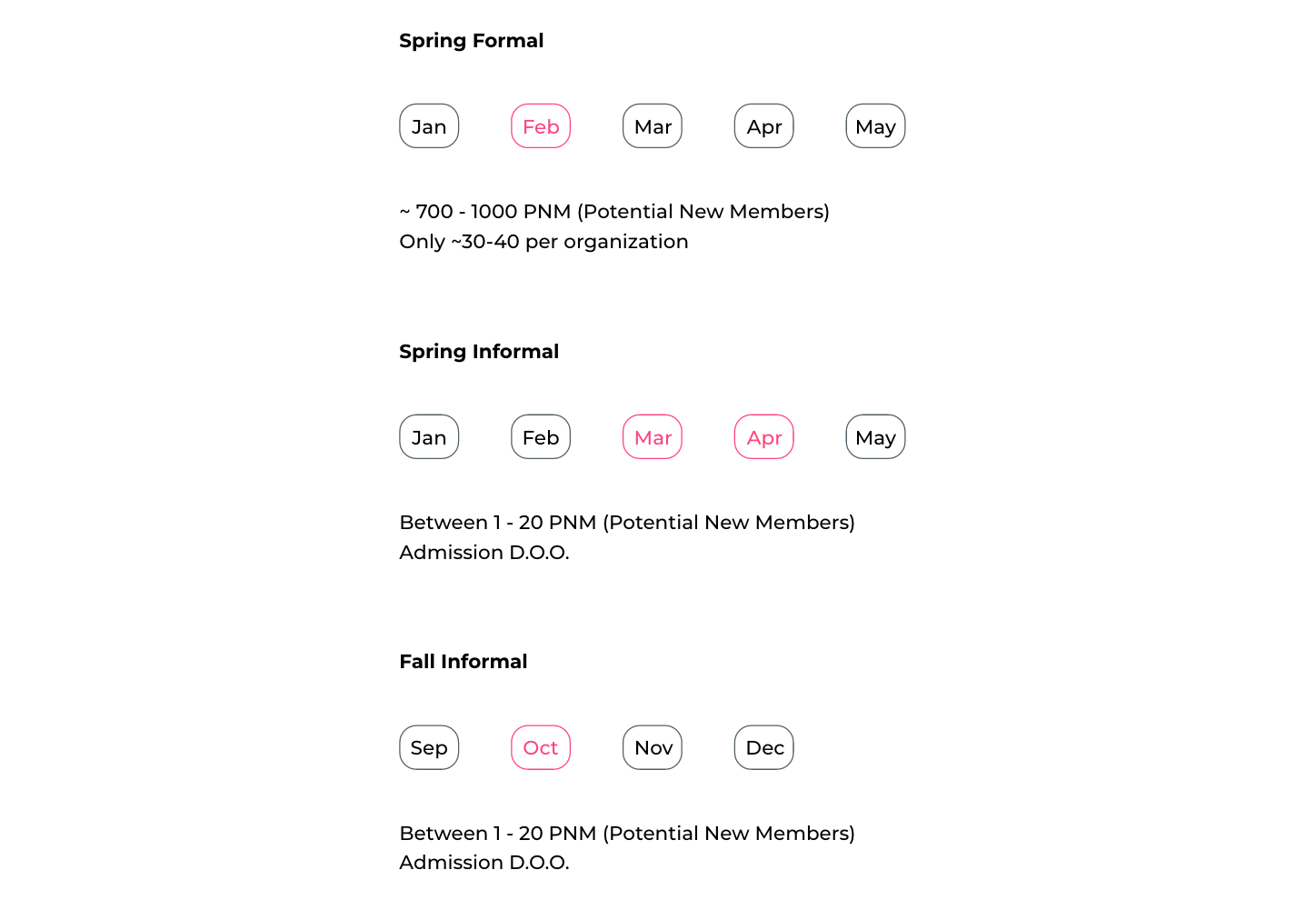 Every year, around 50 students join Tri Delta at Boston University's Alpha Chapter. The chapter has around 125 existing members per school year, and it is each familiy's responsibility to welcome their newly initiated members.
Who is Lineage for?
There are main audience in a broader sense would be Greek sororities and fraternities. However, below lists subgroups within the organizations that are included as targets in consideration for implementation:
︎︎︎ existing sorority general members » members that are present with the organization a semester plus; know some to all members / friend circles to an extent


︎︎︎ existing sorority executive officers » chapter officers who long for more assessible digital resources to carry out collegiate chapter duties


︎︎︎ newly intiated members » members who are not familiar with existing members, families, and officers


︎︎︎ collegiate chapter advisors » advisors who assist chapter executive officers in running the collegiate chapter
Role
I was approached by other council members to design a system for this problem and create a prototype for our chapter to experience, as the product designer and project manager.


Scope / Constraints
In this project, time and budget were the main obstacles in my way. With new members to be initiated around a month after spring break, I created a timeframe for work to be done — outside my studio hours — in 5 weeks. One the other hand, the direction for an approved budget in hiring a profesional coder, required a submission for an allocations of funds and must be authorized by several channels.


Quick Survey
Before starting out on the project, I did a quick survey on 23 students to get a view on what I was dealing with.

Question: How many family members can you remember on the top of you head?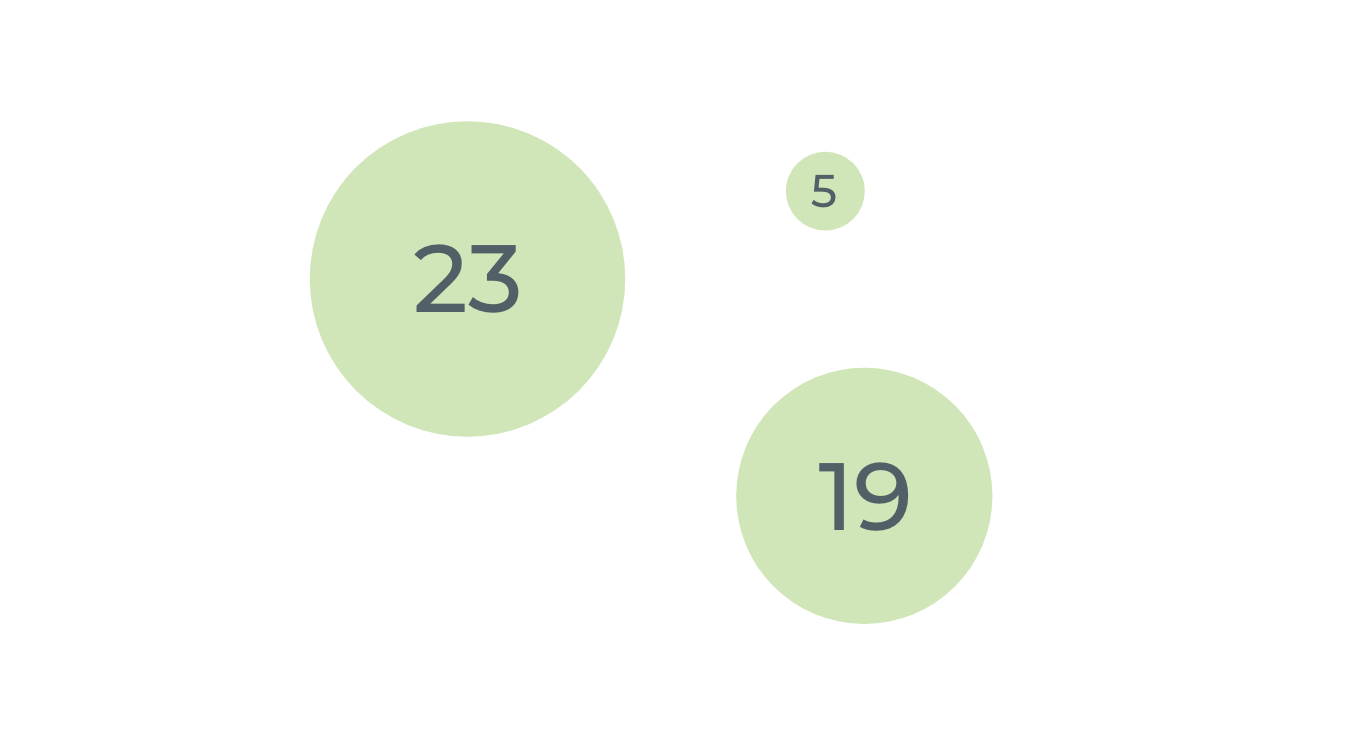 Results: 100% can remember immediate members like bigs, littles, grandlittles, etc. (23 people), while only 82% can remember their extended members (19), and only 21% can name their whole family tree (5).
Question: What is the most common way for you to physically name out your whole family tree?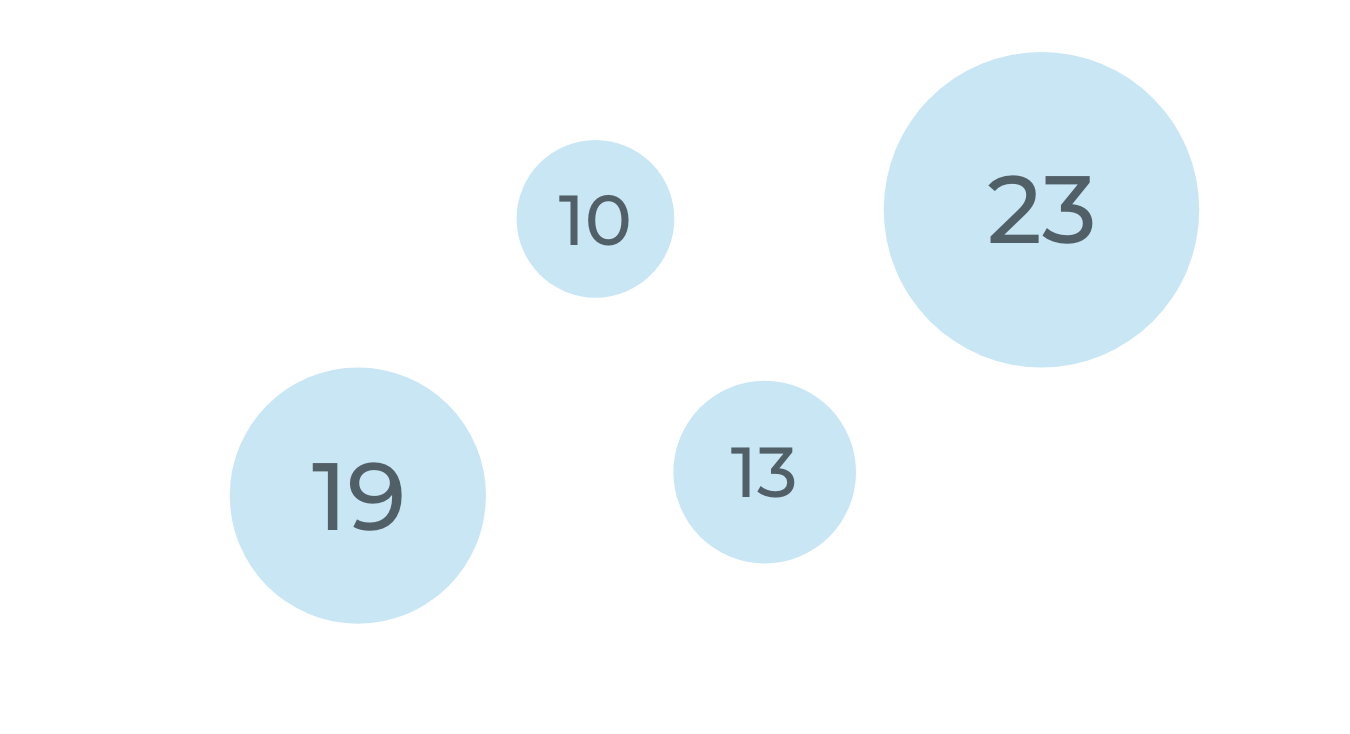 Results: 82% agree with the pen/paper scenario as time consuming and rigorous (19 people), 56% on phone (13), 43% on paper (10), and all would like a central digital space to access.
Product Goal
Based on this survey, my product designing goal is to create a central hub that celebrates sisterhood and it's features. And by researching what Lineage features are needed to differentiate from the competitors, I can make Lineage the missing link, and tailor it toward Tri Delta's specific needs.


Research Area
I classified two tiers of research I needed to conduct for Lineage.
Chat With Members
(1) Executive Officers wanted to focus on: seeing all of the members information, managing charts, budgets, member fees, and an officer override to edit member info.
(2) General Member wanted to focus on: simutaneous edit, and multiple parentage.
(3) Newly initiated members wanted to focus on: a visual guide to help new members be acquainted with immediate and extended members.
Competitor Research
I explored other applications / methods that were already available for the 'family-tree' use, and found 6—OmegaFi, Family Echo, MacFamily Tree, Google Sheet, Family Tree Maker, and My Heritage—that were in line had features that similar in solving the problem Lineage is tackling. I evaluated each application with a pro / con approach to see what they lacked, and what would happen if the apps were used in a sorority setting to fuel what Lineage can remedy them.

Feature Goals
Now that I understand better what other applications have to offer, I made a list of feature goals to add or keep off in my design. I sorted my priorities based on the Moscow method to help keep me on track alongside my product goal.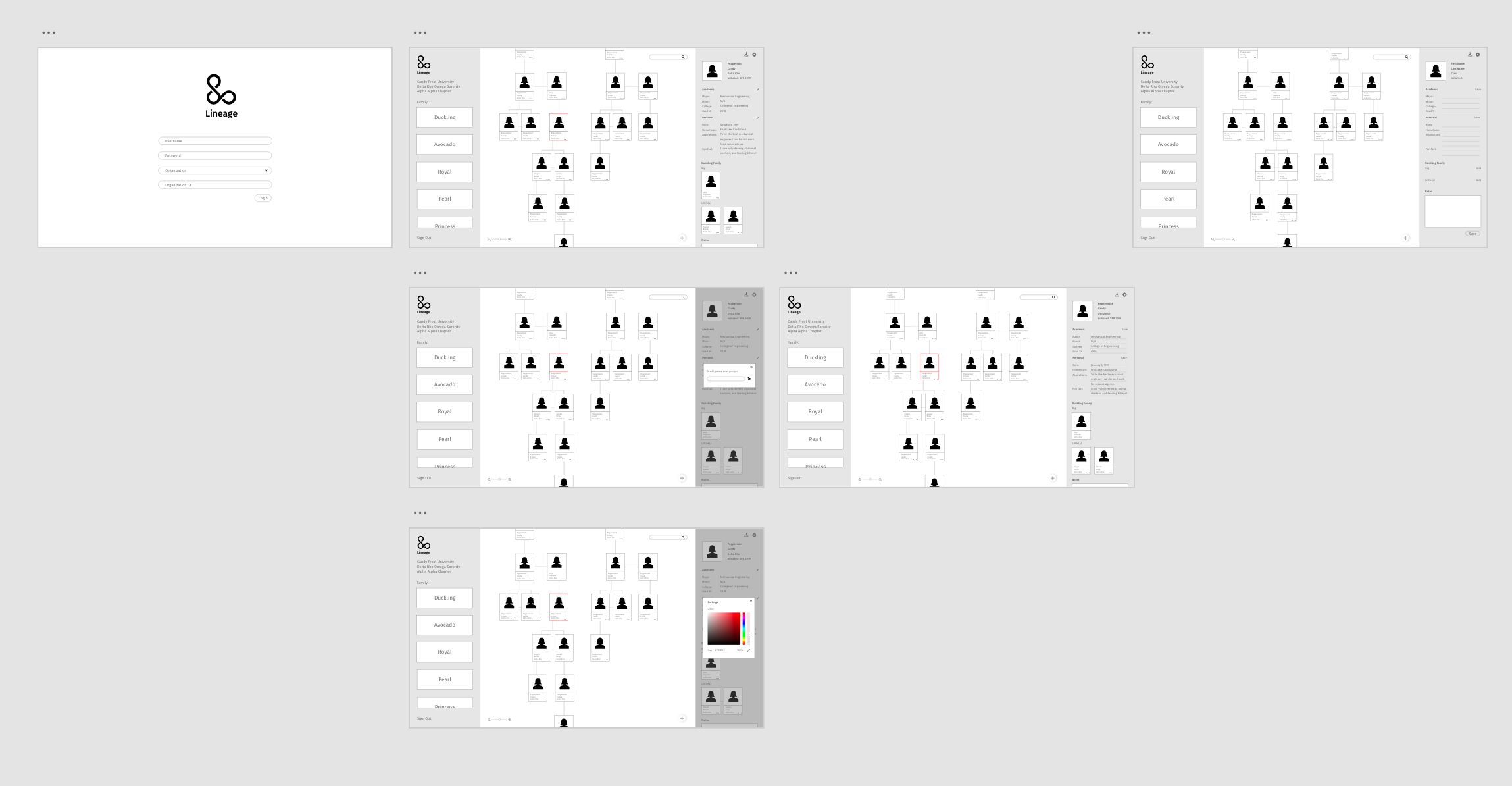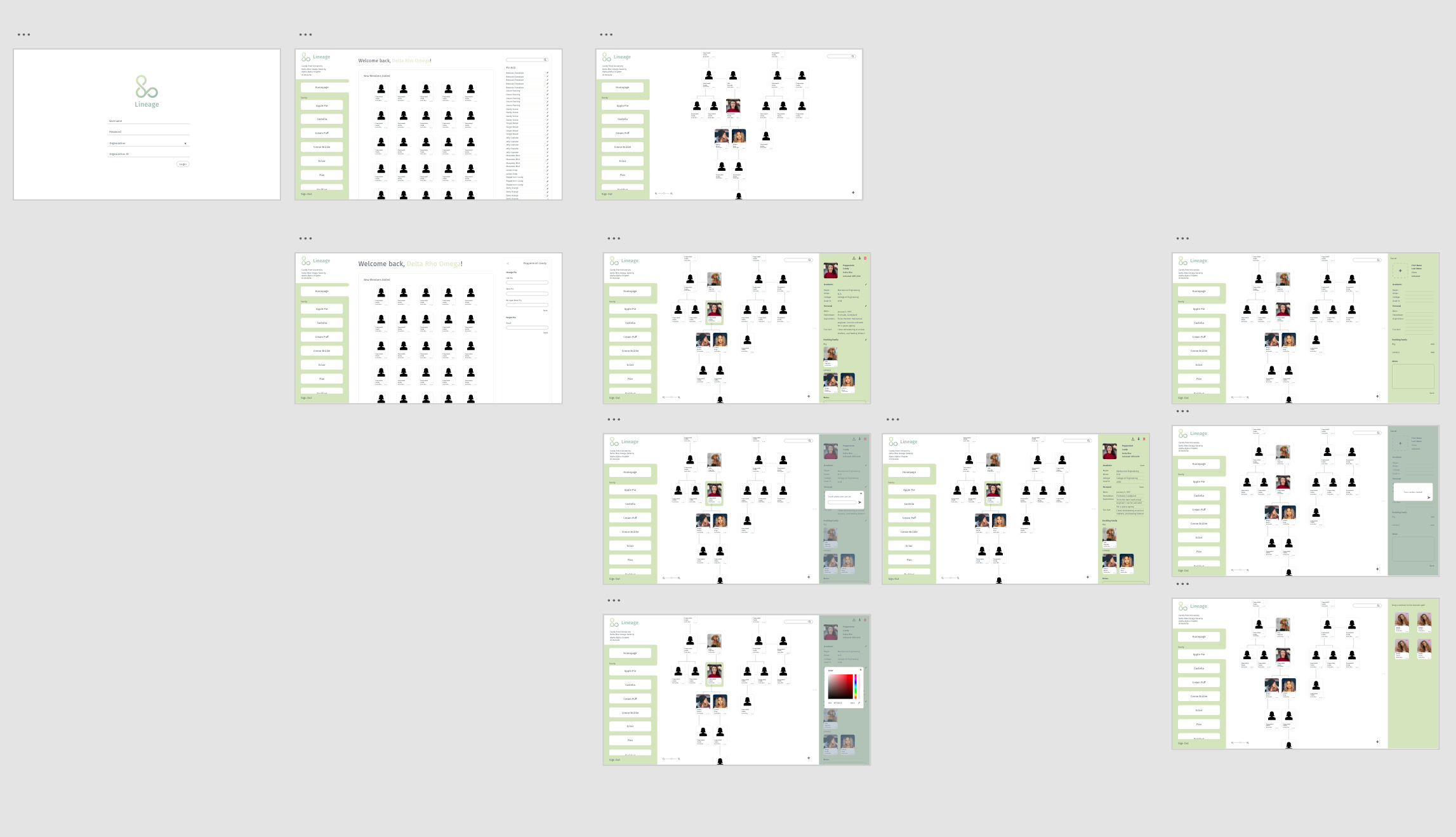 Testing Results on Version 4 (R1)


Logo
In addition to designing the web application, my other deliverables included a logo and design system for Lineage.
Design System Sample
Samples
Below are some samples that I made with the feedback implemented from the R1 testing.

Conclusions / Takaways
I had an amazing time with this project and the research journey that came with it. It was a little disappointing that I wasn't able to continue making this project, since I know it was something that could've been a useful resource for the members. Though it was dropped due to (1) the project being something that the organization no longer wanted to pursue, and (2) there wasn't enough funds allocated to hire a developer, but all in all, it was a great project to dive into. I got to explore how other family tree application apps work and even created an interesting logo!